AbleCommerce Custom Programming, Storefront Management and Integration Services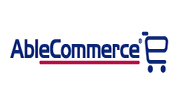 Drundo Software Inc. is an AbleCommerce Partner and has extensive experience on AbleCommerce back-end development, third-party integration and hosting AbleCommerce storefronts.
Our managed AbleCommerce services provide all the things you need to maintain a healthy, productive ecommerce environment. All service plans come with dedicated phone support, proactive AbleCommerce log monitoring, site performance monitoring and response, denial of service attack protection.
We can extend and customize your AbleCommerce site to fit your business rules.
We can integrate your AbleCommerce site with a third party CRM System or Order Management System.
Add-on Services for your store, like Email Marketing,  Live Tax Calculations, and Database Tuning.
We can upgrade your existing AbleCommerce site to the latest AbleCommerce version.
Get a Custom AbleCommerce Development Quote Today!
Toll-Free U.S.A/Canada: (888) 464-2140
International: +001 (617) 383-9838
Phone Hours: Monday - Friday 9am to 9pm EST